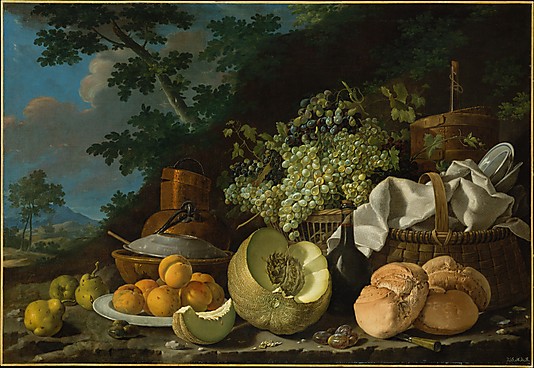 The Afternoon Meal was painted by Luis Melendez in 1772. This still life by Melendez is exceptional in its format and composition. The setting in a luscious landscape is also unusual for him; his compositions are usually set against stark backgrounds.
The painting is similar to a series of four which were painted for the Nuevo Cabinete de Historia Natural of the Prince of Asturias (now in the Museo del Prado, Madrid). It is likely that the Museum's still life originally had a pendant canvas of the same size, with a landscape. The presence of a picnic basket justifies the title of The Afternoon Meal (in Spanish, La Merienda).
This painting can be reproduced on canvas by MuseumArtPaintings.com. Original Dimensions: Height: 105.4 cm, Width: 153.7 cm. Other sizes and custom sizes are available, if you are interested, please visit our site or contact us at email: daydaypaint@yahoo.com .