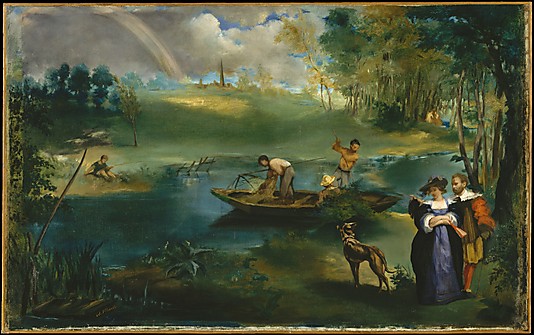 Fishing was painted by Edouard Manet in 1862–63. Manet's lifelong friend Antonin Proust recorded Delacroix's injunction when they visited him in 1856: "Look at Rubens, draw inspiration from Rubens, copy Rubens. Rubens was God." The present painting could be considered a direct result of Delacroix's admonition.
For the composition, Manet borrowed elements from Rubens's "Park of the Chateau de Steen" (Kunsthistorisches Museum, Vienna) and "Landscape with Rainbow" (Musee du Louvre, Paris). In the foreground Manet substituted figures of himself and his companion, Suzanne Leenhoff, for those of Rubens and his second wife, Helena Fourment. For this reason, the painting is associated with the marriage of Suzanne and Manet.
Since the artist had concealed his relationship with Suzanne from his father, who died in September 1862, it is likely that the painting was made sometime between then and the wedding in October 1863. This painting can be reproduced on canvas by MuseumArtPaintings.com. Original Dimensions: Height: 76.8 cm, Width: 123.2 cm. Other sizes and custom sizes are available, if you are interested, please visit our site or contact us at email: daydaypaint@yahoo.com .