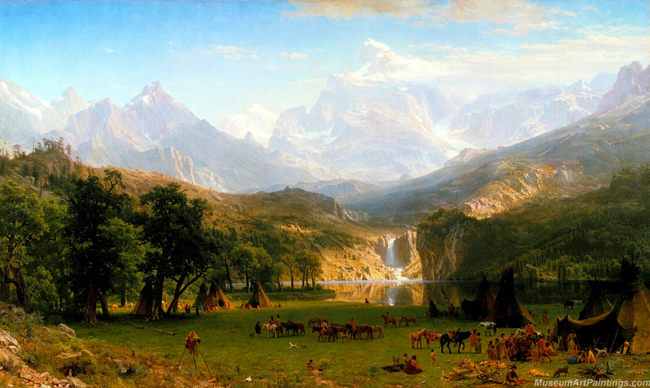 Famous Landscape Painting The Rocky Mountains Lander's Peak is painted by Albert Bierstadt in 1863. This painting is the major work that resulted from the artist's first trip to the West. In spring 1859, he accompanied a government survey expedition, headed by Colonel Frederick W. Lander, to the Nebraska Territory. By summer, the party had reached the Wind River Range of the Rocky Mountains in what is now Wyoming.
Bierstadt dubbed the central mountain in the picture Lander's Peak following the colonel's death in the Civil War. This was one of a number of large works painted after Bierstadt's return from these travels. It was completed in 1863, exhibited to great acclaim, and purchased in 1865 for the then-astounding sum of $25,000 by James McHenry, an American living in London. Bierstadt later bought it back and gave or sold it to his brother Edward.
This painting can be reproduced on canvas by MuseumArtPaintings.com. Original Dimensions: Height: 186.7 cm, Width: 306.7 cm. Other sizes and custom sizes are available, if you are interested, please visit our site or contact us at email: daydaypaint@yahoo.com .